A few years ago I had this amazing cardamom chia pudding at an event and I fell in love. It was so unique and flavorful and I've been meaning to recreate it ever since.
Well now's the time and this is just like I remember but even better. I've added in fresh blackberries and ginger to create a winning combo of flavors and swapped out what I'm sure was maple syrup for keto-friendly erythritol.
You'll notice that I put "to taste" on the sweetener amount because it really depends on your taste level along with how sweet your blackberries are. Start with 1 tablespoon, taste, and go from there.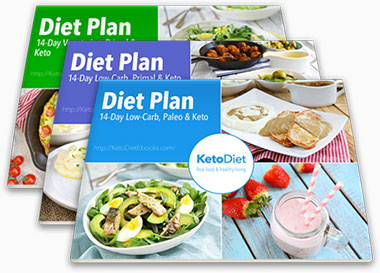 Sign up for FREE and get:
3 free diet plans to help you kickstart
your diet, lose weight and get healthy

Recipes, giveaways and exclusive
deals delivered directly to your inbox

A chance to win the KetoDiet app
every week



Download our free diet plans
Hands-on
Overall
Nutritional values (per serving)
Net carbs4.2 grams
Protein5.2 grams
Fat14.9 grams
Calories201 kcal
Calories from carbs 10%, protein 12%, fat 78%
Total carbs13.8 gramsFiber9.6 gramsSugars2.4 gramsSaturated fat7.6 gramsSodium79 mg(3% RDA)Magnesium27 mg(7% RDA)Potassium333 mg(17% EMR)
Ingredients (makes 4 servings)
1/2 cup chia seeds (76 g/ 2.7 oz)
2 1/2 cups unsweetened almond milk or cashew milk (600 ml/ 20 fl oz)
2 tbsp MCT oil or macadamia or walnut oil (30 ml)
1 cup fresh blackberries or frozen and thawed blackberries (144 g/ 5.1 oz)
1 tsp sugar-free vanilla extract
1 1/2 tsp ground cardamom
1 tsp ground cinnamon
1/2 tsp ground ginger
1 tablespoon (10 g/ 0.4 oz) powdered Erythritol or Swerve, or stevia drops – can be skipped or used to taste
Optional: serve with more blackberries, cream or coconut cream on top
Instructions
Place all of the ingredients except for the chia seeds in a blender and blend until smooth and pour the mixture over the chia seeds. Give it a stir then cover and soak for at least 30 minutes or refrigerate overnight.
To serve, stir the pudding adding additional almond milk if needed to reach your desired consistency.

Store covered in the refrigerator for up to 5 days.

Ingredient nutritional breakdown (per serving)
Blog

Recipes

Breakfasts

Keto Spiced Blackberry Chia Pudding
Blog

Recipes

Desserts

Keto Spiced Blackberry Chia Pudding
Blog

Recipes

Vegan

Keto Spiced Blackberry Chia Pudding
Blog

Recipes

Vegetarian

Keto Spiced Blackberry Chia Pudding
Blog

Recipes

Keto Spiced Blackberry Chia Pudding
Blog

Lauren Lester

Keto Spiced Blackberry Chia Pudding
Do you like this recipe? Share it with your friends!